10,000J is a card found in the Greed Island game. This is a standard card that can be obtained by the player. These cards can be placed in the player's "Free Slots".
Card Info
Edit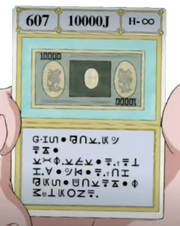 | | |
| --- | --- |
| Card Name: | 10000J |
| Card Number: | #607 |
| Card Transformation Limit: | H-∞ |
| Card Effect: | 10,000 Jenny in card form. |
| How to Obtain: | Trade in shop. Change it yourself. |
This card is the currency for the Greed Island Game. It is the same as regular Jenny, but in card form. This is the highest amount a player can get in card form.
Card Description
Edit
The highest valued currency in Greed Island. When not in its card form, it looks just like a normal bill. (When not in its card form, it is useless on Greed Island).
This is only seen in the 1999 anime.
The manga's version of the card shows a real ¥10,000 (Japanese yen) note (Series D, 1984) obverse image.