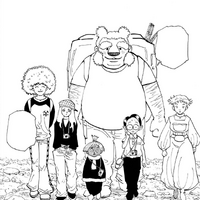 A group of aspiring Contract Hunters led and mentored by Kite. The group is hired by the Kakin Kingdom on the Azian Continent to do a biological survey. Although they are called "Hunters", none of them has a license or has been confirmed to be a Nen user, but Kite has stated that they have excellent potential to be pro-hunters.
Members
Kakin Exploration Team
(スピーナ=クロウ) Nicknamed "Spin", is a young woman who is always seen eating chewing gum. She came to survey the country with Kite. She aspires to be a hunter so that she can pay back her debt to Kite that lent her the money to buy an entire mountain in her hometown--a mining town home to the Small-billed Swan.
(モンタ=ユーラス) Nicknamed "Mon," He is a large man with a koala-like face, also surveys the country Kakin for new species. He seems to be in charge with the luggage.
(リン=コウシ) He came to survey the Kakin country with Kite. He already discovered over a thousand new species of animals even before meeting of the Gon and Killua. He's a short man with round glasses, and is usually seen nervous and stuttering.
(スティック=ディナー) He came to survey the Kakin country with Kite. He came from the same town as Spinner. He likes saying puns and has an afro. He also said that he handles the cooking because his name is Dinner.
(バナナ=カヴァーオ) Also part of the Kakin wildlife explorers. Banana tells Gon about the magical beast camping tiger, has short hair and wears baggy clothing.
(ポドンゴ=ラポイ) Also part of the Kakin explorers. Podungo has dark skin with hair tied up in a topknot. She is the smallest member of the group.
Ad blocker interference detected!
Wikia is a free-to-use site that makes money from advertising. We have a modified experience for viewers using ad blockers

Wikia is not accessible if you've made further modifications. Remove the custom ad blocker rule(s) and the page will load as expected.