Bara (バラ, Bara) is a member of the Bomb Devils.
Appearance
He is a tall (196 cm), muscular man with middle-parting, long, straight, purple hair and a tattoo that looks like a trident on his forehead.

Plot
Greed Island arc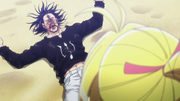 During the final confrontation with Gon's team, he is lured away from his teammates by Biscuit and faces her in a one-on-one fight. After he manages to land a hit on Biscuit, knocking her down, she reveals her true gorilla form and hits him unconscious with a single punch to the face. When all the Bombers are defeated, Genthru asked to heal Bara's injury. Later he is saved when Gon uses an Breath of Archangel card to heal his injury.

Abilities & Powers
Bara has a good degree of physical strength and skills at hand-to-hand combat. He took little damage from Biscuit's blows and managed to hit her and knock her down with a back-handed slap, although she was holding back and had let him strike her on purpose. He has good reactions, having managed to catch an arrow mid-flight in spite of the darkness and the suddenness of the attack.
Nen
Bara is fairly skilled at Zetsu, as neither Puhat nor Tsezguerra or his allies could feel his presence. When he and his two teammates put their thumbs together and say a certain keyword in unison, the time bombs planted by Genthru will explode simultaneously.
Ad blocker interference detected!
Wikia is a free-to-use site that makes money from advertising. We have a modified experience for viewers using ad blockers

Wikia is not accessible if you've made further modifications. Remove the custom ad blocker rule(s) and the page will load as expected.