Welcome to Hunterpedia!


We are currently housing 1,762 articles, and 14,226 files. We need YOUR help expanding and adding articles to the wiki!
---
---
If you're new to Wikia, please use the above links to get started.
If you already have editing experience, and you have an article relating to Hunter × Hunter to contribute, use the box below to create it:
Thank you!
Characters
Featured Article
Paladin's Necklace

The Paladin's Necklace (also known as "Necklace of the Saint Knight") is a necklace found in Greed Island. As an item, a player wearing it will always be under the effect of the "Reflection" spell, protecting the wearer from attack-type spells and will be able to undo curses placed on cards he touches. It also means that cards under the spell effect of "Fake" or "Transform" will return to their original forms. It can be obtained in the monthly tournament in Antokiba.
Latest Manga Chapter
Spoiler Alert! Read at your own risk!
Chapter 359 - Departure

The Black Whale sets off for the Dark Continent. It will take 2 months, passing through regular waters before entering the more volatile conditions in Lake Mobius. It will make a nominal stop at a new continent to avoid public outcry and then it will head to the dark waters...
Latest Anime Episode
Episode 148 - Past × And × Future
Gon climbs to the top of the World Tree where Ging is expecting him, and the two finally have a heart to heart talk. In this occasion, Ging reveals his intentions to explore the world beyond the current boundaries known to mankind and Gon tells him of all his adventures, while his friends keep following their separate ways, each one of them with their own dreams and goals to pursue. During their talk, Gon remembers to give the double star hunter license Kite gave him back to Ging.
The last episode, Episode 148, is up.
Featured media
Hunter × Hunter 1999 anime: Greed Island OVA Opening
Pray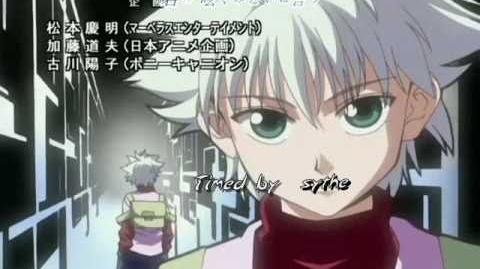 How many chapters before the next hiatus?
Which character has the coolest Nen ability?
Affiliated Sites
Want to affiliate with Hunterpedia? Contact an admin.
News Feed
Loading RSS data...
Contents
Nen Battles Archive | Have any suggestions for the next Nen Battle Poll or want to discuss the current one? Please leave them in the Nen Battles Suggestions Blog.
Latest Anime and Manga Covers
User Blogs
Random Image