Ivlenkov (イワレンコフ, Iwarenkofu) was one of Neon's bodyguards.
Appearance
Ivlenkov appears to be a middle-aged man, with brown combed-back hair and green eyes. As one of Neon Nostrade's bodyguards, his uniform consisted of a black tuxedo and dark red tie.

Plot
Yorknew City arc
On a private runway at the Ringon Airport, Ivlenkov accompanied by Linssen, Tocino, Dalzollene, and Squala kept a close eye on Neon Nostrade, as she exited her private airship and into a car heading towards Yorknew City.[1] Under Dalzollene orders, Ivlenkov along with Tocino and Baise attend the Mafia's underground auction in Yorknew City on the night of September 1st to bid for certain items.[2]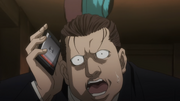 As Franklin accompanied by Feitan activates his Nen ability to massacre all of the Auction Attendees, Ivlenkov and Baise try to flee out of the room, but as they exit the auction room Ivlenkov's head is smashed by a young girl's conjured vacuum cleaner.[3] Ivlenkov was later mentioned by Kurapika, when he informs Neon that he's one of the three people that died in the Underground Auction massacre.[4]
Trivia
In the English dub of the 1999 anime, he was referred to as Ilankov.
References
Ad blocker interference detected!
Wikia is a free-to-use site that makes money from advertising. We have a modified experience for viewers using ad blockers

Wikia is not accessible if you've made further modifications. Remove the custom ad blocker rule(s) and the page will load as expected.