Kiriko (キリコ, Kiriko) are Magical Beasts that can change their own physical appearance.[1]
Appearance
Edit
Hunter Exam arc
Edit
A family of Kiriko outside of Dolle Harbor serve as navigators to the examination site for the Hunter Exam. During the 287th Hunter Exam they used their shapeshifting abilities in order to pretend to be a human family under attack by Kiriko in their natural form to test Gon, Kurapika, and Leorio. They are impressed with Gon's superhuman senses, Kurapika's knowledge of ancient symbols, and Leorio's kindness and skill in treating the supposedly injured man. Because of this they agree to take the three to the site of the Hunter Exam.[1]
Greed Island arc
Edit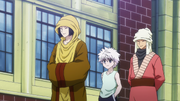 They later guide Killua to the examination hall during the 288th Hunter Exam upon learning of his friendship with Gon. They are very eager, at that time, to hear of Gon's adventures, sighting the fact that they "miss the lad."[2]
13th Hunter Chairman Election arcEdit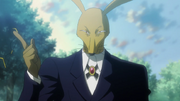 The Kiriko son poses as Gotoh after his death, possibly so that Killua won't know that he was killed.[3]
In the English dub of the 2011 anime, Tom Fahn voices the parents, Kyle Hebert voices the son, and Deborah Gatton voices the daughter.
Gon claims that despite the parents' resemblance to each other, they actually look nothing like and even sound different. However, this difference can only be noticed by the likes of him—people with enhanced senses and great skills of perception. For people with average senses like Leorio and Kurapika, the difference is so small that it was impossible for them to tell the wife from the husband. 
References
Edit
↑

Hunter × Hunter - Volume 15, Chapter 148

↑

Hunter × Hunter - Volume 32, Chapter 339