Kyu (キュウ, Kyū) is examinee #105 in the 287th Hunter Exam.[1] He is also an examinee in the 288th Hunter Exam.[2]
Appearance
Edit
Kyu has short red hair, small eyes and a distinctive mashed-in red nose. During the Hunter Exam, he wore a turtle-necked purple shirt with long sleeves, brown trousers, and gray shoes. He also carried a light brown satchel and a saber with the hilt wrapped in bandages.
Personality
Edit
| | |
| --- | --- |
| | This article or section is a stub. |
| You can help Hunterpedia by expanding it. | |
Hunter Exam arc
Edit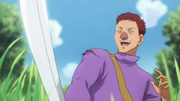 Kyu is one of the 24 examinees to make it to the 4th phase of the Hunter Exam on Zevil Island. His badge is the designated target of Pokkle, who paralyzes him with one of his poisoned arrows then takes the badge.[3] Seeing him lying helpless on the ground, Gon bandages him and moves him to a place where he can wait safely until the effects of the poison disappear.[4]
Greed Island arc
Edit
Kyu takes the 288th Hunter Exam. During the first phase, he is knocked out by Killua and gets his badge taken, thus fails.[2]