Montreux (モントール, Montōru) was a player of the Greed Island game and the other member of team Yabibi.
Plot
Greed Island arc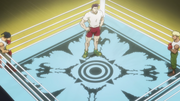 After attending the meeting of different teams organized by Kazsule, Montreux and his teammate Yabibi become part of the group of 15 players who enter Razor's gym to challenge him and his subordinates for the Patch of Shore card. He volunteers to fight in the first match against a Boxer, who happens to be an Emitter like him. Despite landing a number of punches, he receives a powerful uppercut in the jaw at the same time and is knocked unconscious, thus losing the match. Not long after leaving the gym, he and Yabibi are killed by the Bomb Devils.
Abilities & Powers
Montreux is moderately perceptive, realizing the boxer pirate was an Emitter because the ring was ideal for this type of Nen users. He managed to briefly have the upper hand against his opponent, though he was eventually knocked out in one blow.
Nen
Montreux is an Emitter. His Hatsu allows him to send aura projectiles about the size of his fist flying at the opponent by punching the air. Said projectiles are rather fast and powerful, leaving a bruise/scorch mark just by brushing past the pirate boxer's shoulder.
Ad blocker interference detected!
Wikia is a free-to-use site that makes money from advertising. We have a modified experience for viewers using ad blockers

Wikia is not accessible if you've made further modifications. Remove the custom ad blocker rule(s) and the page will load as expected.