Nickes (ニックス, Nikkusu) was a Greed Island player hired by Battera.
Plot
Greed Island arc
Having been a veteran of the game, he forms a players' alliance in order to complete Greed Island. Gon and Killua meet him in Antokiba and are invited to join his alliance but they decline.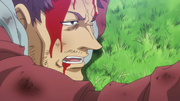 After the alliance is blackmailed by the Bomber for their cards, Nickes gives in to his demands and persuades other players to do the same to save their lives. However, the Bomb Devils do not keep their promise. Right after Nickes gives the Bombers the cards, the alliance members are killed by the Nen ability causing them to explode.
Abilities & Powers
Due to being able to access Greed Island, Nickes is capable of utilizing Nen.
Ad blocker interference detected!
Wikia is a free-to-use site that makes money from advertising. We have a modified experience for viewers using ad blockers

Wikia is not accessible if you've made further modifications. Remove the custom ad blocker rule(s) and the page will load as expected.