2011

|

1999

|

Manga

Paladin's Necklace

Additional Information

Primary Ability

Protects the user from attacks

Located In
Greed Island

Debut

Manga Debut
Anime Debut
The Paladin's Necklace (also known as "Necklace of the Saint Knight") is a necklace found in Greed Island. As an item, a player wearing it will always be under the effect of the "Reflection" spell, protecting the wearer from attack-type spells and will be able to undo curses placed on cards he touches. It also means that cards under the spell effect of "Fake" or "Transform" will return to their original forms. It can be obtained in the monthly tournament in Antokiba.
Plot
Greed Island arc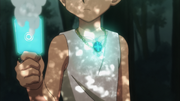 When Gon's group retrieved the necklace, Gon wore it to prevent their cards from being stolen by spell cards. Gon also used it on the Sick villagers's card form to remove their illness, which resulted in obtaining the designated 075 Wild Luck Alexandrite as a reward. After clearing the game it is one of the three cards that Gon took out of the island to un-transform a 002, "Patch of Shore" to an "Accompany" spell card.

Card
It is the designated number 084 card and its rank-limit is D-60. Since the function of each card is based on the creators' Nen, this cards existence may imply that one of the creators is an exorcist.
Ad blocker interference detected!
Wikia is a free-to-use site that makes money from advertising. We have a modified experience for viewers using ad blockers

Wikia is not accessible if you've made further modifications. Remove the custom ad blocker rule(s) and the page will load as expected.