Cover

|

Ending

Reason

Information

Artist
Composer

Yujin Kitagawa, Koji Iwasawa, Kenichi Maeyamada

Number of Discs

1

Number of Tracks

7

Release Date

January 9, 2013

Ending Number

03

Starting Episode
Ending Episode

Ending Song Guide

Previous
← Hunting For Your Dream
Next
Nagareboshi Kirari →
Hunter × Hunter Music
Reason is the third ending theme of the 2011 series of Hunter × Hunter, and is sung by the duo Yuzu. The song was also used as the ending theme for the 2013 movie Phantom Rouge.
On the second week of January 2013, the single ranked at number 3 on the Oricon charts.[1]
Characters in Order of Appearance
Edit
Ending 3:
Ending 7:
Iru yo soba ni ichiban chikaku
Ima wa tada sore dakede iikara
Itsuka sotto iikaketa
Yume no tsuzuki o kikasete yo

Bokura ni donna sekai ga
Michinaki michi no saki ni matteru?
Koe nakigoe wa kono mama doko ni mo todokazu ni kiete yuku no?
Wasurenai (kinō no kioku)
Kesenai (kyō no kōkai mo)
Nagesute (gamushara ni asu o mezasu)
Asahi ni terasareta kizu warai atte
Owaru koto nai tabi o tsuzukeyou

Mukaikaze to shitte inagara
Soredemo susumu riyū ga aru
Dakara tomoyo
Oiteku tame dake ni ikiru no wa
Mada hayaidarou
Mi ni tsuketa mono kakaekonda mono
Tebanashita toki hajimaru nanika
Umaku ikiteku RESHIPI o yaburi sutete kanjiru REASON
Sō bokura no yarikata de

Yoru no kaze ga kioku o kakimidasu
Nigedaseta hazu nanoni onaji basho
Hitori yurari norari kurari tsuki o nagamete
Kimi wa sukui o negau
Nagai tabiji bokura tsuyoku natta
Demo ienai kizu mata uzuki dasu
Nanimo iwanai dakedo boku wa wakatteru kara
Hora sora ga akeyuku
Iru yo soba ni ichiban chikaku
Ima wa tada sore dake de iikara
Itsuka sotto iikaketa
Yume no tsuzuki o kikasete yo, kikasete yo

Kikoeru sono koe ga
Omokage yomigaeru

Mukaikaze to shitte inagara
Soredemo susumu riyū ga aru
Dakara tomoyo
Oiteku tame dake ni ikiru no wa
Mada hayai darou
Ase ni mamirete doro ni mamirete
Te ni shita mono wa mittomonai ka na?
Dareka ga kimeru kunshō wa hoshi kurai kikoeru RHYTHM

Iru yo soba ni ichiban chikaku
Ima wa tada sore dakede iikara
Itsuka kitto tadoritsuku
Bokura no mirai e ugokidasu
Ima tashika ni
Sō bokura no yarikata de
いるよ 傍に 一番近く
今は ただそれだけでいいから
いつかそっと 言いかけた
夢の続きを 聞かせてよ

僕らにどんな世界が 道無き道の先に待ってる
声なき声はこのまま どこにも届かずに消えてゆくの

忘れない 昨日の記憶
消せない 今日の後悔も
投げ捨て がむしゃらに 明日を目指す
朝陽に 照らされた傷 笑い合って
終わること無い旅を 続けよう

向かい風と知っていながら
それでも進む理由がある
だから友よ 老いてく為だけに生きるのはまだ早いだろう
身につけたもの 抱え込んだもの
手放した時 始まる何か
上手く生きてく レシピを破り捨てて
感じる REASON そう僕らのやり方で

夜の風が 記憶を掻き乱す
逃げ出せたはずなのに 同じ場所
ひとり ゆらり のらり くらり
月を眺めて 君は
救いを願う

長い旅路 僕ら強くなった
でも癒えない傷 また疼き出す
何も言わない だけど僕は分かっているから
ほら 空が明けゆく

いるよ 傍に 一番近く
今は ただそれだけでいいから
いつかそっと 言いかけた
夢の続きを 聞かせてよ
聞かせてよ

キコエルソノコエガ オモカゲヨミガエル

向かい風と知っていながら
それでも進む理由がある
だから友よ 老いてく為だけに生きるのはまだ早いだろう
汗にまみれて 泥にまみれて
手にしたものはみっともないかな?
誰かが決める勲章はほしくない
聴こえる RHYTHM

いるよ 傍に 一番近く
今は ただそれだけでいいから
いつかきっと 辿り着く
僕らの未来へ 動き出す
今確かに そう僕らのやり方で
I'm here, the closest I can be, by your side
And that's just fine for now
One day you'll tell me gently
Tell me the rest of your dreams

What kind of world
Is waiting for us at the end of this path of the unknown?
At this rate will the voiceless voices, disappear without reaching anywhere?

Don't forget (Yesterdays memories)
It can't be erased (Today's regrets as well)
Throw them away (And recklessly aim for tomorrow)
Laugh at your wounds that are shined upon by the morning sun
And continue the endless journey

I know of the headwind,
And yet I still have reason to keep on going
So we comrades
It's still too early for us to live
Just to get old, don't you think

The things I clang to, to things I embraced in my arms
When I let go of them, something starts
I feel a REASON to throw away the recipe for living well
Yeah, we'll just do it our way

The night's wind stirs up memories
You were supposed to have ran away and yet here you are
Alone, swaying lazily gazing at the moon
You wish for salvation

This long journey has made us strong
But our wounds that won't heal, again, start to ache

I don't say anything but rest assured that I understand
That hey, the sky will clear up

I'm here, the closest I can be, by your side
And that's just fine for now
One day you'll tell me gently
Tell me the rest of your dreams, tell me

The voice I hear
Resurrects my memories

I know of the headwind,
And yet I still have reason to keep on going
So we comrades
It's still too early for us to live
Just to get old, don't you think
Smeared in sweat and mud
The things we've obtained, are they not disgraceful ? I wonder
An order that someone decides upon, is a rhythm that even the stars can hear

I'm here, the closest I can be, by your side
And that's just fine for now
One day we'll surely manage to reach it
We're going to start moving, toward our future
Right now for sure
Yeah, with our way of doing things
TV Version
Edit
Ending 3:

Ending 7: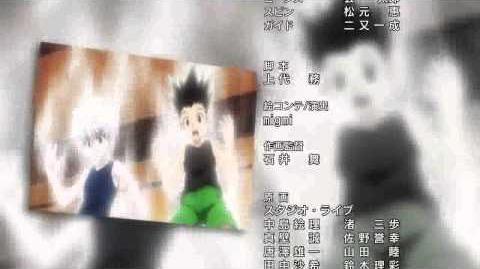 Full Version
Edit
References
Edit