The fictional World of Hunter × Hunter is composed of the ocean and the 6 continents which look similar to those of the real world, but have different locations. There are 250 countries in the world. Only two continents are known so far: Yorbian and Azian continents. In reality the "ocean" where these continents are is a great lake in the Dark Continent called Lake Mobius (メビウス, Mebiusu).
List of Places in the "known" World
Edit
Yorbian continent
Unnamed Continent 1
Unnamed Continent 2
Unnamed Continent 3
Unnamed Continent 4
Unknown Locations
List of Places in the "outside" World
Edit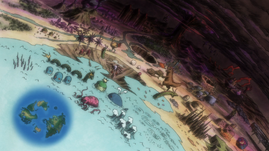 The world of Hunter × Hunter looks like a map of Earth, but with the various continents tilted and relocated.

Real world locations that are missing include Sri Lanka, Greenland, Iceland, and Central America.