Yunju (ユンジュ, Yunju) was a centaur-like Chimera Ant Squadron Leader.[1]
Appearance
Yunju's front half is that of a muscular man, while his behind is that of a horse. He has spiky blue hair, red eyes, and a serpentine tongue.
Plot
Chimera Ant arc
Yunju with his human pets Spot and Rover appear before Gon, Killua, and Kite after they infiltrate his new base of operations; a narcotics factory in NGL. Yunju inquires Kite's group who they are, when Spot beseeches Kite and the group for help. Yunju then crushes Spot's head with his hoof killing him on impact, for being too noisy. Although regretting this for a brief moment, Yunju claims he was getting bored of his pets, causing Rover to panic and beg like a dog to have his life spared. Unamused Yunju kills Rover, as his two comrades Centipede and Mosquito appear from the deeper parts of the factory. Turning his attention to Kite and group; Yunju declares that Kite and group will become new dogs and sends his comrades after them.[1]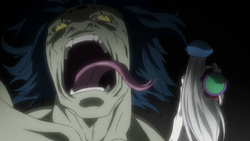 After both of Yunju's comrades were killed by Gon and Killua, he's shot dead by Kite's Nen ability Crazy Slots.[2]

References
↑

Hunter × Hunter - Volume 19, Chapter 193
Ad blocker interference detected!
Wikia is a free-to-use site that makes money from advertising. We have a modified experience for viewers using ad blockers

Wikia is not accessible if you've made further modifications. Remove the custom ad blocker rule(s) and the page will load as expected.